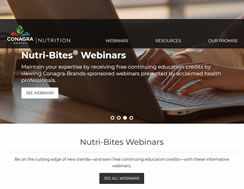 Conagra Nutrition
Conagra Nutrition whose mission is "We believe that everyone deserves easy access to understandable, credible, and science-based nutrition information. Our mission is to provide cutting-edge knowledge in our specific areas of focus: packaged foods, weight management, and convenient ways to add diversity to ordinary diets." Conagra Nutrition is managed by Rippe Lifestyle Institute on behalf of ConAgra Foods.

Rippe Health YouTube Channel
These are images of Dr. Rippe discussing various issues of lifestyle medicine and health and can be found on the YouTube website Rippe Health. This website was launched in 2011.

Rippe Lifestyle Institute Facebook page
The RLI Facebook page, which was inaugurated in 2011, can be found at Rippe Lifestyle Institute. Among other features, it contains a video tour of RLI research facilities.

Lifestyle Medicine Initiative
The Lifestyle Medicine Initiative was founded by Rippe Lifestyle Institute as an attempt to encourage more hospitals and other healthcare organizations to adopt the principles of lifestyle medicine.

Start Making Choices
The Rippe Lifestyle Institute played a vital role in developing and maintaining the Start Making Choices Campaign by ConAgra Foods.

WebMD.com
Dr. Rippe serves as a member of the Medical Advisory Board for WebMD.com and was one of ten physicians selected in the United States to be featured on the re-launch of this website in 2007.

Breakfast Research Institute
The Rippe Lifestyle Institute managed the BRI on behalf of Quaker and Tropicana for 5 years.

Florida Hospital Institute For Lifestyle Medicine
Dr. Rippe was the founding chairman of the Florida Hospital Institute for Lifestyle Medicine and served in this capacity from 2005-2007.

Rippe Health Web Site
The Rippe Health web site provides information on all areas related to Rippe Health.

American Journal of Lifestyle Medicine
In January 2007, Sage Publications launched the American Journal of Lifestyle Medicine. This is a bi-monthly publication which goes to 20,000 health care providers. Dr. Rippe serves as the Editor in Chief of AJLM. More information on AJLM may be found at http://www.sagepub.com